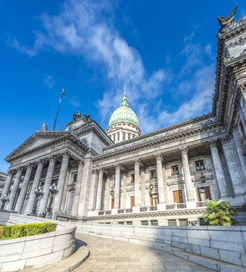 Compare ferries from Argentina to Uruguay
There are numerous ferry crossings operating from Argentina to Uruguay. Ferries currently connect 1 Ports in Argentina with 4 Ports in Uruguay.

There are a combined number of 3 ferry crossings each day across a selection of 4 ferry routes which are operated by 2 ferry companies including Buquebus & Colonia Express with the shortest crossing taking around 1 hour 15 minute (Colonia del Sacramento).

This is a general summary of the services on offer between Argentina and Uruguay, for live information select from our Fare Search.
Argentina Uruguay Ferry Map
Ferries from Argentina to Uruguay
About Argentina:
Argentina is a large nation in South America, boasting a beautifully diverse landscape and a culture so vibrant, it could thrill even the most experienced traveller.

There's something for everyone to enjoy, from succulent steaks and top-quality football to natural wonders and stylish cities. It even claims the highest peak in the southern hemisphere.

Buenos Aires, the capital, offers all of Argentina's best traits in one place. You can learn the famous tango, sample the finest foods on the continent and wander through the countless boutiques. So, there's definitely more than meets the eye in this country.

Due to the capital's location on the east coast and the large natural bay, travelling by ferry is an easy and popular mode of transport to and from Buenos Aires and the neighbouring Uruguay. Buquebus, the region's main transportation company, provides frequent crossings between the two countries.
About Uruguay:
Uruguay is a South American country on the southeast coast, sandwiched between Brazil to the northeast and Argentina to the west.

With some of the most liberal laws in the world, and ranked 'country of the year' in 2013 by the Economist magazine, Uruguay is one of the continent's underrated destinations and will surely surprise most visitors with its unsung gems. Golden shores line the south-facing coast, with the iconic fingertips statue on Brava Beach in Punta del Este, a small seaside town renowned for its clubbing scene. Further west lies the nation's capital, Montevideo, with its Independence Square, once a Spanish citadel until 1829, surrounded by beautiful colonial architecture and lively port markets.

Ferries regularly make the international journey, across the Rio de La Plata, from Buenos Aires in Argentina to a couple of Uruguayan cities, including the capital.