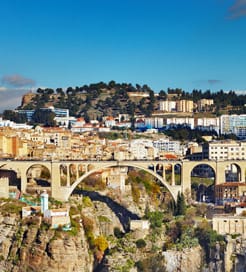 Compare ferries from Algeria to Spain
There are numerous ferry crossings operating from Algeria to Spain. Ferries currently connect 4 Ports in Algeria with 4 Ports in Spain.

There are a combined number of 13 ferry crossings each day across a selection of 7 ferry routes which are operated by 4 ferry companies including Algerie Ferries, Trasmediterranea, Naviera Armas & Balearia with the shortest crossing taking around 9 hour 0 minute (Almeria).

This is a general summary of the services on offer between Algeria and Spain, for live information select from our Fare Search.
Ferries from Algeria to Spain
About Algeria:
Algeria is the largest country in Africa with a coastline facing the Mediterranean Sea and an interior covered by the Saharan desert which is scattered with picturesque ruins.

Having been home to a great number of empires and dynasties in the past, Algeria now offers a diverse cultural heritage and an abundance of fascinating historical landmarks. There are entire Roman towns, captivating museums and bustling medinas just waiting to be explored wherever you go.

The capital, Algiers is characterised by whitewashed buildings rising up from the sea, comprising both a modern and old section. However, the city's prominent feature and most visited attraction is the enormous Casbah, or 'citadel', with its labyrinth of narrow streets and spectacular Ottoman palaces.

Algeria is ideally located for sailing to southern Europe and, with multiple ports along its 1,600-km coastline, there is a wealth of ferry options. Most routes across the Mediterranean Sea have a relatively long journey time, so be sure to book a comfortable cabin.
About Spain:
Spain is a beautiful and diverse country located in the south west of Europe. As a country well known for its beaches, the geographical and cultural diversity in Spain often comes across as a surprise to its visitors.

This exotic country really has it all, from lush meadows, green valleys and hills to snowy mountains and almost desert zones in the South. No wonder Spain ranks the third most visited European country.

In terms of getting to Spain by ferry, with the North, East and South sides of the country facing the Sea, there's no shortage of options. From the UK, there are regular scheduled crossings available and though the crossings on offer are long, the ships are cruise like in standard which makes for an extremely pleasant trip. The same applies to the connection across the Mediterranean Sea from Italy.

From the North African coast, you can depart from Morocco, Melilla and Algeria. The services from Morocco in particular are very popular with many companies operating the connection across the strait of Gibraltar.

The Balearic and Canary Islands provide numerous connections to the mainland.