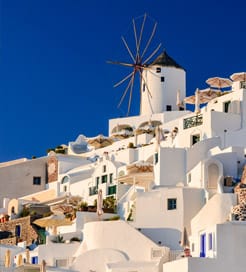 Compare ferries from Aegean Islands to Athens
There are numerous ferry crossings operating from Aegean Islands to Athens. Ferries currently connect 6 Ports in Aegean Islands with 2 Ports in Athens.

There are a combined number of 36 ferry crossings each day across a selection of 7 ferry routes which are operated by 2 ferry companies including Hellenic Seaways & SeaJets with the shortest crossing taking around 6 hour 35 minute (Piraeus).

This is a general summary of the services on offer between Aegean Islands and Athens, for live information select from our Fare Search.
Aegean Islands Athens Ferry Map
Ferries from Aegean Islands to Athens
About Aegean Islands:
The Aegean Islands are located in the Aegean Sea, between the south and east side of mainland Greece and the west side of Turkey.

The vast area covered by the Aegean Islands includes the Cyclades, the Dodecanese Islands, the North Aegean Islands, the Saronic Islands, Sporades, Crete and the Ionian Islands and Euboea. The island group includes some of the most popular holiday destinations including Crete, Lemnos, Lesbos, Chios, Samos and Rhodes.

The Aegean Islands are often seen as the main characteristic of the Greek culture and tradition. In addition to the obvious appeal of the sun and the sand, visitors are attracted to the traditional villages of whitewashed houses, as well as to the impressive monuments of the great prehistoric civilisation that flourished here.

Ferries are the primary method of travel around the islands and provide a convenient mode of transport to get you in to and around the region.