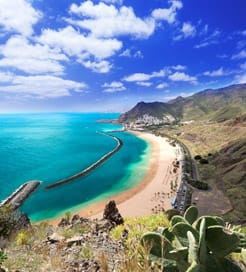 Compare ferries from Tenerife to Lanzarote
There is currently just the 1 ferry route running between Tenerife and Lanzarote operated by 2 ferry companies – Naviera Armas & Trasmediterranea. The Santa Cruz de Tenerife to Arrecife ferry crossing operates weekly with a scheduled sailing duration from about 9 hours.

Whilst we've taken great care to ensure the information on this page is correct, as the frequency and duration of crossings on all routes can vary from time to time we'd advise that you get a live quote for current availability on this Tenerife Lanzarote crossing between Santa Cruz de Tenerife and Arrecife.
Tenerife Lanzarote Ferry Map
Ferries from Tenerife to Lanzarote
About Tenerife:
Tenerife is the largest and most populous island of the seven Canary Islands with 43 percent of the total population of the Canary Islands, and is also the most populous island of Spain.

Tenerife is also the most visited island in the Canary island group, welcoming over ten million visitors per year with its lovely weather, beautiful coastlines, spectacular beaches, lush forests, mountains, volcanoes, as well as two world heritage sites, one National Park, and 42 natural protected spaces.

The weather is one of the main reasons for the influx of visitors to Tenerife's shores with almost guaranteed sunshine year round. As a result, this family friendly island is consistently one of Europe's top winter sun destinations.

Though the island has 2 airports, inter island travel is best by ferry. As the largest island in the group, Tenerife acts as a hub for many of the other Canary Islands with frequent crossings offered by Spain's best known ferry operators. There are also regular crossings connecting Tenerife to the mainland for those who enjoy spending their travel time at sea.
About Lanzarote:
The fourth largest of the Canary Islands of Spain, Lanzarote is the northernmost and easternmost of the archipelago.

Located just seventy miles from North Africa, Lanzarote has a mild climate making it the perfect destination for a holiday, any time of year.

If you are travelling to Lanzarote by ferry from mainland Spain then there's a choice of ports and ferry companies available. The Canaries are quite a long way from the Spanish mainland which results in a lengthy crossing duration and relatively high fares however the ships are generally modern with plenty to do on board, so the crossing is pleasant.

Getting to Lanzarote from within the Canary Islands is relatively easy with neighbouring Fuerteventura providing the shortest and most regular option. From other islands such as Gran Canaria, La Palma and Tenerife there are a number of companies operating scheduled ferry crossings to Lanzarote.