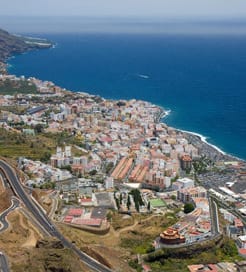 Compare ferries from La Palma to Tenerife
There are 2 ferry routes operating between La Palma and Tenerife offering you combined total of 17 sailings per week. Trasmediterranea operates 1 route, Santa Cruz de La Palma to Santa Cruz de Tenerife which runs 1 time weekly. Naviera Armas operates 1 route, Santa Cruz de La Palma to Los Cristianos which runs 6 times weekly. Fred Olsen Express operates 1 route, Santa Cruz de La Palma to Los Cristianos which runs 10 times weekly.

As the frequency and duration of crossings on some routes varies we would advise that you do a live search for crossings from La Palma to Tenerife to get the most up to date information.
La Palma Tenerife Ferry Map
Ferries from La Palma to Tenerife
About La Palma:
La Palma, the jewel of the Canary Islands, is the most North-westerly and fifth largest of the island group. Like the other Canary Islands, La Palma is a volcanic ocean island and is currently the most volcanically active.

La Palma is an extremely good island for a walking holiday, with hundreds of kilometres of footpaths to follow, you'll be able to experience its mountains and volcanoes, beaches and rainforests, tiny villages and breathtaking views.
About Tenerife:
The island of Tenerife is the largest and best known of the Canaries group with a coastline of some three hundred and fifty kilometres and attracts over ten million visitors to its shores each year.

The number one reason that people head to Tenerife is because of the year round guarantee of sunshine, making the island of Tenerife a top winter destination.

Weather and amazing beaches aside, Tenerife has so much more to offer, with ravines, as well as spectacular cliffs, forests, and even fossilised remains of prehistoric animals. Tenerife will no doubt offer a unique experience for every visitor.

Perhaps due to its size and undoubted popularity, getting to Tenerife by ferry is relatively simple with numerous choices on offer. With two principle ferry ports, whether you are coming from the mainland (on a long crossing) or island hoping from another canary island, most of the region's most popular ferry companies call at Tenerife.