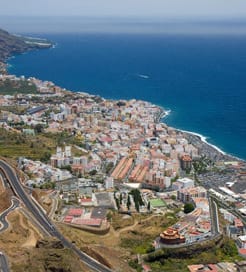 Compare ferries from La Palma to La Gomera
There is currently just the 1 ferry route running between La Palma and La Gomera operated by 2 ferry companies – Fred Olsen Express & Naviera Armas. The Santa Cruz de La Palma to San Sebastian de la Gomera ferry crossing operates weekly with a scheduled sailing duration from about 1 hour 50 minutes.

Whilst we've taken great care to ensure the information on this page is correct, as the frequency and duration of crossings on all routes can vary from time to time we'd advise that you get a live quote for current availability on this La Palma La Gomera crossing between Santa Cruz de La Palma and San Sebastian de la Gomera.
La Palma La Gomera Ferry Map
Ferries from La Palma to La Gomera
About La Palma:
La Palma is the most north-westerly and fifth largest of the Canary Islands off the northwest African coast.

It's an island particularly well suited for walking holidays, offering hundreds of kilometres of footpaths through unspoilt areas of nature. You'll be able to admire the mountains, volcanoes, beaches, rainforests and tiny villages along the way, too, which have all been declared a UNESCO Biosphere Reserve.

What La Palma lacks in sandy beaches, it more than makes up for in breathtaking views of forested valleys and fascinating rock formations, earning it the nickname 'the jewel of the Canary Islands'.

La Palma's main port is in Santa Cruz de la Palma on the east coast, where you can sail to most of the Canary Islands and mainland Spain, so there's plenty of options when it comes to travelling by ferry.
About La Gomera:
La Gomera is one of the smallest of the Canary Islands group in the Atlantic Ocean. Unlike the other Canary Islands, La Gomera offers peace and quiet in a spectacular landscape.

From its dramatic beaches to its trails through the tropical mountain scenery and misty rainforest, La Gomera is described as a jewel of nature. Its National Park has been declared a UNESCO World Heritage Site and is known as one of the best kept secrets of the Canary Islands.