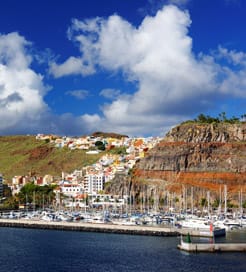 Compare ferries from La Gomera to El Hierro
La Gomera El Hierro Ferry Map
Ferries from La Gomera to El Hierro
About La Gomera:
La Gomera is the second smallest of the seven main Canary Islands, located in the Atlantic Ocean off the coast of Africa.

The undeveloped, unspoilt, beautiful island of La Gomera is best explored on foot as the island offers many paths and self-guided walks over the island through the lush rainforests and national park. At the end of most valleys on the island you will find beaches of varied quality.
About El Hierro:
El Hierro is the West most and most remote island of the Canary Islands in the middle of the Atlantic Ocean, with stark volcanic landscape and cliff-lined shores. El Hierro was consider the end of the world for a long time until Columbus sailed the ocean in 1492.

With less than 2000 residents in its biggest town, the remote island of El Hierro is a perfect escape from busy city life.