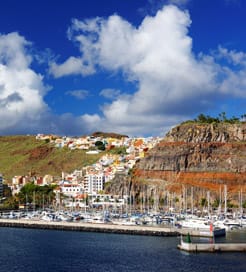 Compare ferries from La Gomera to El Hierro
La Gomera El Hierro Ferry Map
Ferries from La Gomera to El Hierro
About La Gomera:
La Gomera is the second smallest of the seven main Canary Islands, located in the Atlantic Ocean off the coast of Africa.

The unspoilt, beautiful island of La Gomera is best explored on foot as it offers an extensive network of paths through the lush rainforest and across the national park. At the end of most valleys, you will find lovely black sandy beaches where you can relax after your hike, too.

The island is also home to a number of pretty chapels which are well worth seeing, most notably the 16th Century Church and Convent of Santo Domingo in Hermigua to the north.

La Gomera's main port can be found in San Sebastian de La Gomera on the east coast. There are a couple of ferry routes provided to the nearby Canary Islands, with frequent daily crossings to choose from.
About El Hierro:
El Hierro occupies the most south-westerly region of the Spanish Canary Islands, an archipelago sprawled along the west coast of Africa.

As the most far-flung of the Canaries, El Hierro has long had a mysterious reputation. It was even considered the zero meridian until 1885 and believed to be the world's end due to its dramatic cliffs and rugged, awe-inspiring appearance from a distance.

However, El Hierro's impressive natural features, including lush forests, lava fields and peculiar vegetation, have been found worthy of UNESCO World Biosphere status. The island also boasts a Marine Reserve and forty six excellent dive sites consisting of steep drop-offs, underwater caves and colourful fish.

Reaching El Hierro by ferry is simple, with daily crossings from the popular holiday island of Tenerife to Puerto de la Estaca on the east coast, which are operated by one of the leading ferry companies in the Canaries.