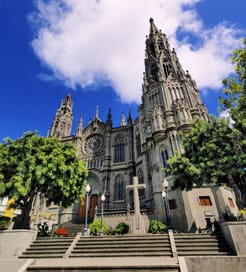 Compare ferries from Gran Canaria to Portugal
Gran Canaria Portugal Ferry Map
Ferries from Gran Canaria to Portugal
About Gran Canaria:
Gran Canaria is part of the Spanish Canary Islands in the Atlantic Ocean, situated off the northwest coast of Africa.

Due to the different climates and a variety of landscapes found on Gran Canaria, it's commonly referred to as a 'miniature continent'. Its diverse terrain comprises long beaches and dunes of white sand contrasting with green ravines and picturesque villages, whilst a third of the island has been declared a UNESCO Biosphere Reserve.

Although it's only the third largest island, Gran Canaria makes up almost half of the population of the Canaries, which means vibrant bars, exquisite restaurants and fascinating museums are readily available.

Due to its centrality in the Canaries, Gran Canaria is a great departure point for the other islands in the archipelago. You can also sail to a couple of ports on mainland Spain, so there's no shortage of ferry options.
About Portugal:
Portugal is a country in South-Western Europe and shares the Iberian peninsula with Spain at the Western tip of Europe.

With a mild climate, 3000 hours of sunshine a year and 850 km of splendid beaches on the Atlantic Ocean, Portugal is the perfect holiday destination all year round. As one of the top 20 most visited countries in the world, Portugal attracts an average of 13 million visitors per year, with its capital city Lisbon as a tourist hotspot.