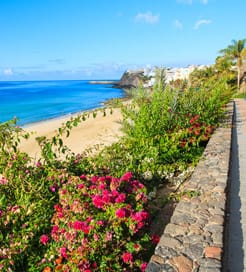 Compare ferries from Fuerteventura to Lanzarote
There is currently just the 1 ferry route running between Fuerteventura and Lanzarote operated by 3 ferry companies – Fred Olsen Express, Lineas Maritimas Romero & Naviera Armas. The Corralejo to Playa Blanca ferry crossing operates daily with a scheduled sailing duration from about 25 minutes.

Whilst we've taken great care to ensure the information on this page is correct, as the frequency and duration of crossings on all routes can vary from time to time we'd advise that you get a live quote for current availability on this Fuerteventura Lanzarote crossing between Corralejo and Playa Blanca.
Fuerteventura Lanzarote Ferry Map
Ferries from Fuerteventura to Lanzarote
About Fuerteventura:
Fuerteventura is the second largest of the Canary Islands after Tenerife, in the Atlantic Ocean off the coast of Africa.

Fuerteventura was declared a biosphere reserve by UNESCO in 2009 and has also been rated as one of the most attractive tourist destinations for visitors interested in cultural heritage, environment and sustainability.

Fuerteventura is the Island of eternal spring and the island's beaches and rugged natural beauty attract visitors all year round.
About Lanzarote:
The fourth largest of the Canary Islands of Spain, Lanzarote is the northernmost and easternmost of the archipelago.

Located just seventy miles from North Africa, Lanzarote has a mild climate making it the perfect destination for a holiday, any time of year.

If you are travelling to Lanzarote by ferry from mainland Spain then there's a choice of ports and ferry companies available. The Canaries are quite a long way from the Spanish mainland which results in a lengthy crossing duration and relatively high fares however the ships are generally modern with plenty to do on board, so the crossing is pleasant.

Getting to Lanzarote from within the Canary Islands is relatively easy with neighbouring Fuerteventura providing the shortest and most regular option. From other islands such as Gran Canaria, La Palma and Tenerife there are a number of companies operating scheduled ferry crossings to Lanzarote.