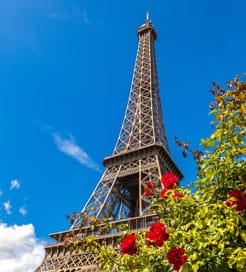 Compare ferries from France to Guernsey
There are 2 ferry routes operating between France and Guernsey offering you combined total of 15 sailings per week. Condor Ferries operates 1 route, St Malo to Guernsey which runs 8 times weekly. Manche Iles Express operates 1 route, Dielette to Guernsey which runs 7 times weekly.

As the frequency and duration of crossings on some routes varies we would advise that you do a live search for crossings from France to Guernsey to get the most up to date information.
France Guernsey Ferry Map
Ferries from France to Guernsey
About France:
France has been one of the world's most popular tourist destinations for many years and is one of the most diverse countries in the world.

With a variety of landscapes, its charming people and the richness of its culture, France really is an ideal destination for the holidaymaker. Paris with its iconic monuments and Europe's most popular theme park and also the French Riviera in the south east get the headlines, but there is so much more to see and do.

Whether you're up for an adventure holiday, a spa break, relaxing on a beach, castle hop, shopping or simply people watching, you can do it all in France. And, however many times you visit, there is always something to discover.

With its central position in Western Europe, France is the perfect gateway by ferry to the surrounding countries and islands of the Mediterranean and the English Channel. With numerous ferry companies operating crossings to and from France, destinations include the UK, Ireland, the Channel Islands, Corsica, Sardinia and North Africa.
About Guernsey:
The Island of Guernsey is part of the Channel Islands and forms the British Crown dependency together with the islands of Alderney, Sark and others. Although geographically located closer to France than the UK, Guernsey is an island under the British Crown.

The Island of Guernsey offers a unique perspective from the sea, and the rugged clifftops offer a beautiful view of the sweeping sandy bays and the diverse landscape, making it a perfect getaway from the busy city life.