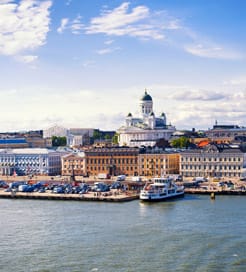 Compare ferries from Finland to Sweden
There are numerous ferry crossings operating from Finland to Sweden. Ferries currently connect 4 ports in Finland with 4 ports in Sweden.

There are a combined number of 28 ferry crossings each day across a selection of 9 Ferry Routes which are operated by 6 ferry companies including Tallink Silja, Viking Line, Finnlines, Eckerö Linjen, St Peter Line & Wasaline with the shortest crossing taking around 1 hour 45 minutes (Eckero to Grisslehamn).

This is a general summary of the services on offer between Finland and Sweden, for live information select from our Fare Search.
Ferries from Finland to Sweden
About Finland:
Finland is a Nordic country in Northern Europe, bordered by Sweden to the West, Norway to the North, Russia to the East and Estonia to the South across the Gulf of Finland.

Unlike its neighbours Norway and Sweden, Finlands landscape is rather low and flat, with rolling plains, lakes and low hills, while mountains are only in the very North. Known as the Land of a Thousand Lakes, the coasts and lakes in Finland are an excellent boating destination.
About Sweden:
Sweden is the largest of the Nordic countries, bordered by Norway and Finland, and connected to Denmark via the bridge of Oresund.

From skiing, skating, hiking, canoeing, cycling, sailing and horse riding to wildlife watching of brown bears and wolf tracking, Sweden offers a variety of outdoor activities throughout the year depending on the season. Its old towns with Stockholm as one of the best known ones are also great places to experience the culture.