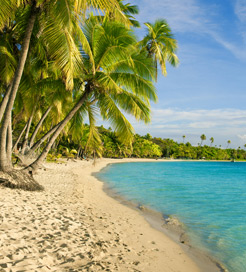 Compare ferries from Fiji to Nanuya Lailai Island
There are 3 ferry routes operating between Fiji and Nanuya Lailai Island offering you combined total of 28 sailings per week. Awesome Adventures Fiji operates 3 routes, Denarau to Gold Coast Resort runs 7 times per week, Denarau to Sunrise Lagoon Resort about 14 times weekly & Denarau to Nanuya Island Resort about 7 times weekly.

As the frequency and duration of crossings on some routes varies we would advise that you do a live search for crossings from Fiji to Nanuya Lailai Island to get the most up to date information.
Fiji Nanuya Lailai Island Ferry Map
Ferries from Fiji to Nanuya Lailai Island
About Fiji:
Fiji is an archipelago in the South Pacific Ocean comprising roughly 330 islands, of which only a third are inhabited.

A leader in eco-tourism and home to an endless amount of picture-postcard beaches and vibrantly coloured coral reefs, Fiji is beautiful both on land and beneath the waves. It's also regarded as the 'soft coral capital of the world', offering some of the finest diving locations in the Pacific.

Fiji has a huge variety of choice when it comes to finding your perfect setting, the Mamanuca and Yasawa Islands scattered across the main island's northwest coast offer everything from a buzzing nightlife to spectacular scenic walks. On the other hand, Viti Levu's energetic, multicultural towns and markets offer a break from those lazy afternoons at the beach.

Given the amount of islands and islets in Fiji, there is an enormous choice of sailings departing from Denarau on Viti Levu's west coast. With many routes provided numerous times a day, travelling by ferry is by far the easiest way to get around this tropical paradise.