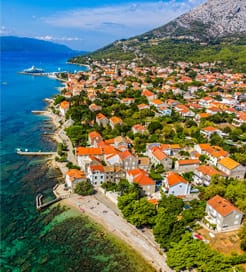 Compare ferries from Croatia to Slovenia
There are 3 ferry routes operating between Croatia and Slovenia offering you combined total of 10 sailings per week. Trieste Lines operates 3 routes, Porec to Piran runs 3 times per week, Rovinj to Piran about 5 times weekly & Pula to Piran about 2 times weekly.

As the frequency and duration of crossings on some routes varies we would advise that you do a live search for crossings from Croatia to Slovenia to get the most up to date information.
Croatia Slovenia Ferry Map
Ferries from Croatia to Slovenia
About Croatia:
The increasingly popular holiday destination of Croatia is located just south-east of central Europe and contains over a thousand islands.

With over one hundred 'Blue Flag' beaches and numerous nature reserves, Croatia is ranked in the top twenty of the most popular tourist destination in the world and welcomes more than ten million tourists to its shores each year.

As with most of the popular holiday destinations in Europe, visitors can expect warm dry summers and mild winters, with more than two thousand five hundred hours of sunlight on average each year.

Croatia is a great point of departure for those wishing to cross the Adriatic Sea to Italy by ferry, especially from the Balkan countries. There are numerous crossings on offer ranging from short high speed passenger only routes sailing to northern Italy to longer more conventional services crossing the sea between the two countries a bit further down the Adriatic.

The seasonal high speed passenger only catamaran crossings are relatively cheap and sail from the coast of Istria to northern Italy.

The conventional passenger and car ferry sailings from Croatia to Italy are operated by numerous ferry companies and generally depart from Split, Dubrovnik and seasonally from the island of Hvar.
About Slovenia:
Slovenia is in southern Central Europe, with a short, southwestern coastline on the Adriatic Sea, bordering Italy to the west and Croatia to the south and east.

Although small, the Slovenian coastline is astonishingly beautiful, characterised by forty seven kilometres of Venetian Gothic architecture, dazzling water and pristine beaches, with towns like Koper, Izola and Piran offering lively bars and excellent restaurants. Alongside the natural tapestry of iconic lakes and mountain scenery, the country is known for its mixture of climates, allowing you to enjoy a variety of outdoor activities like skiing, hiking and white-water rafting all year round.

In cultural terms, the locals are famed for their hospitality, making Slovenia a suitable holiday destination for families and couples. The cuisine is diverse, drawing influences from Italy, Hungary and the Balkans, utilising locally sourced produce, with popular dishes cantered on fresh pasta and soups.

There are many fast, international ferry crossings from Italy and Croatia, arriving at the port of Piran on the southern corner of the Slovenian coast.