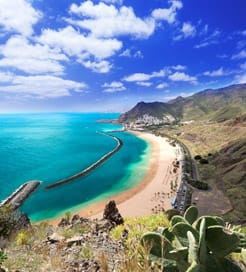 Compare ferries from Tenerife to Gran Canaria
There are 2 ferry routes operating between Tenerife and Gran Canaria offering you combined total of 71 sailings per week. Trasmediterranea operates 1 route, Santa Cruz de Tenerife to Las Palmas which runs 1 time weekly. Naviera Armas operates 1 route, Santa Cruz de Tenerife to Las Palmas which runs 4 times daily. Fred Olsen Express operates 1 route, Santa Cruz de Tenerife to Agaete which runs 6 times daily.

As the frequency and duration of crossings on some routes varies we would advise that you do a live search for crossings from Tenerife to Gran Canaria to get the most up to date information.
Tenerife Gran Canaria Ferry Map
Ferries from Tenerife to Gran Canaria
About Tenerife:
Tenerife is the largest and most populous island of the seven Canary Islands with 43 percent of the total population of the Canary Islands, and is also the most populous island of Spain.

Tenerife is also the most visited island in the Canary island group, welcoming over ten million visitors per year with its lovely weather, beautiful coastlines, spectacular beaches, lush forests, mountains, volcanoes, as well as two world heritage sites, one National Park, and 42 natural protected spaces.

The weather is one of the main reasons for the influx of visitors to Tenerife's shores with almost guaranteed sunshine year round. As a result, this family friendly island is consistently one of Europe's top winter sun destinations.

Though the island has 2 airports, inter island travel is best by ferry. As the largest island in the group, Tenerife acts as a hub for many of the other Canary Islands with frequent crossings offered by Spain's best known ferry operators. There are also regular crossings connecting Tenerife to the mainland for those who enjoy spending their travel time at sea.
About Gran Canaria:
Gran Canaria is the second most populous island in the Canary Islands, a Spanish archipelago in the Atlantic Ocean.

A 'continent in miniature', Gran Canaria is locally known. This is due to the huge variety of landscapes and micro-climates, with vast mountains, long beaches and green ravines all coming together on this 1,500 square-kilometre landmass.

A third of Gran Canaria is classified as a UNESCO Biosphere Reserve, but elsewhere, you will find a rich history in the cosmopolitan capital of Las Palmas, a charming hilltop village in Tejeda and a network of superb cycling routes winding through the valleys.

Travelling by ferry is a convenient way to explore the Canaries, and, given Gran Canaria's central location, it's within easy reach from nearly every other island. There are also some long-distance connections from mainland Spain which are operated by a couple of excellent ferry companies.