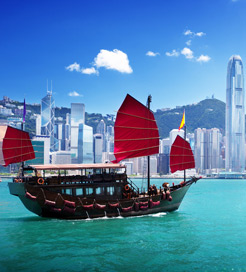 Compare ferries from Hong Kong to China
There are 4 ferry routes operating between Hong Kong and China offering you combined total of 83 sailings per week. TurboJet operates 3 routes, Hong Kong Airport (Skypier) to Shenzhen Airport (Fu Yong) runs 3 times per day, Hong Kong Airport (Skypier) to Shenzhen (Shekou) about 3 times daily & Tuen Mun to Shenzhen Airport (Fu Yong) about 6 times weekly. Sea's Young operates 1 route, Hong Kong Airport (Skypier) to Humen which runs 5 times daily.

As the frequency and duration of crossings on some routes varies we would advise that you do a live search for crossings from Hong Kong to China to get the most up to date information.
Hong Kong China Ferry Map
Ferries from Hong Kong to China
About Hong Kong:
Hong Kong is an autonomous territory on China's southern coast, known for being one of the most densely populated cities in the world.

It's also famous for its modern cityscape, excellent shopping spots and large natural harbour, as well as its diverse natural landscape comprising vast mountainous areas and many country parks, allowing you to find some tranquillity away from the energetic metropolis.

Diversity can be found in the cuisine, too, as you can indulge in superb Cantonese, Shanghainese, Vietnamese, Japanese and European dishes from either upmarket restaurants or authentic street vendors, which is why it's regarded as the culinary capital of Asia.

Hong Kong boasts an extremely well-developed ferry infrastructure, with multiple ferry companies offering high-speed crossings with modern, luxurious vessels. From numerous ports in Hong Kong, you can sail to a number of locations in China and Macau.
About China:
China is a massive country in East Asia, and the most populous on the planet, spanning over nine and a half million square-kilometres.

Known the world over for its sumptuous cuisine, historic landmarks and animated New Year celebrations, China has an intensely rich cultural heritage, accommodating almost a hundred million visitors each year. Many millenniums of inhabitation have culminated in some of the most recognisable monuments on earth: the Great Wall of China, the Forbidden City Palace of Beijing and the Terracotta Army sculptures. While the capital, Beijing, and largest city, Shanghai, are skyscraper-clad testaments to the nation's progressive and ultra-modern outlook.

The frequent and high-speed ferry services make it easy to reach to China from the Special Administrative Regions of Macau and Hong Kong, with multiple crossings every day lasting no longer than an hour. For international services, long-haul sailings from South Korea and Japan are also available.