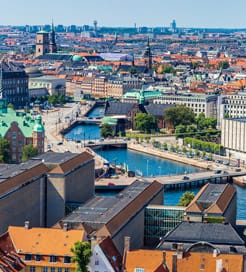 Compare ferries from Denmark to Norway
There are numerous ferry crossings operating from Denmark to Norway. Ferries currently connect 3 ports in Denmark with 6 ports in Norway.

There are a combined number of 77 ferry crossings each week across a selection of 7 Ferry Routes which are operated by 4 ferry companies including Fjord Line, Stena Line, DFDS Seaways & Color Line with the shortest crossing taking around 2 hours 15 minutes (Hirtshals to Kristiansand).

This is a general summary of the services on offer between Denmark and Norway, for live information select from our Fare Search.
Ferries from Denmark to Norway
About Denmark:
Denmark is a country in Northern Europe located Southwest of Sweden, South of Norway and bordered by Germany to the South. It consists of the peninsula of Jutland and over 400 islands. The Kingdom of Denmark also includes two autonomous constituent countries in the North Atlantic Ocean which are the Faroe Islands and Greenland.

With a history of viking raiders and a major North European power, Denmark has now evolved into a modern and prosperous nation with high living standards and is often ranked as the happiest country in the world.
About Norway:
Norway is the Westernmost country of the Scandinavian peninsula, bordered by Sweden, Finland and Russia.

Norway's landscape and nature attractions can never be overrated, with its steep-sided fjords of extraordinary beauty cutting straight into the coastline, the mountainous interior, vast forests in the east, as well as the most charming wildlife in Europe.

The vibrant cultural life is also something to enjoy, with plenty of traditional celebrations that you can plan your trip around.